Back to news
Collaboration the Focus of College of Nursing and Health Sciences Seminar Day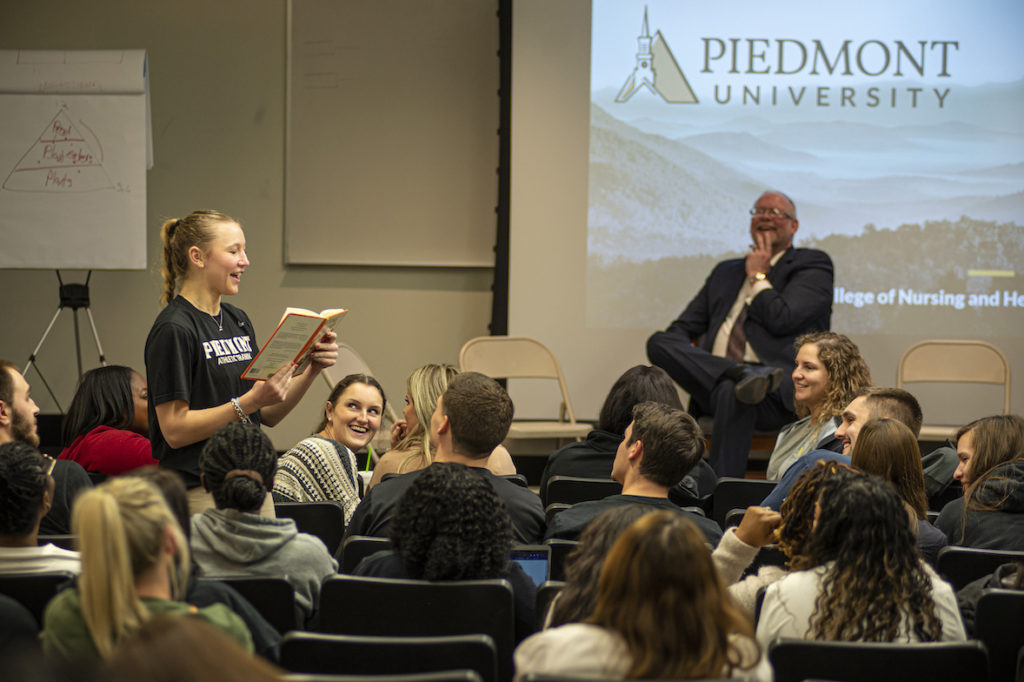 The focus was on interprofessional collaboration during Piedmont University's College of Nursing and Health Sciences annual seminar day on Jan. 17. Seniors studying all majors within the college from both campuses gathered in Stewart Auditorium in Demorest for the day's event.
The seniors became teachers for the day by sharing skills from their respective disciplines with each other.
Piedmont Distinguished Professor of Education Dr. Perry Rettig was the keynote speaker. Rettig has authored several books about collaborative principles and spoke about theories and concepts he has explored.
Rettig also moderated a panel of Piedmont professors who discussed their experiences with collaboration within their fields. Panelists included Kathy Harris, RN; Ingrid Hinkley, CCC-SLP; Greg Ryan, PhD, CSCS*D; and Matt McKinney, ATC, CSCS.
To finish the day, Rettig had students read from the book Stone Soup, which tells the tale of three soldiers who make soup with a stone and water and invite local villagers to contribute ingredients to improve the soup and share in the result.
"Dr. Rettig did a profound job of presenting about collaboration from the education world and seamlessly helped the students connect the concepts to their own practices," said Jennifer Kelley, associate professor of nursing. "It was a wonderful day of collaboration."