Back to news
Piedmont University's January Fine Arts Events Include Exhibition by Georgia-Based Artist, Performance by Piedmont Camerata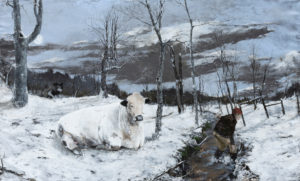 Piedmont University's January fine arts events include an exhibition by painter and sculptor Miles Cleveland Goodwin and a performance by Piedmont Camerata, the university's artist-in-residence chamber ensemble.
Both events are open to the public and free to attend.
"January is set to be an exciting showcase of the artistic talent thriving both here at Piedmont and throughout the region," said Dr. Wallace Hinson, associate dean of the School of Fine Arts & Communications.
"We look forward to sharing these events with our community."
Goodwin's "A Day on Earth," a selection of his recent work, opens Jan. 12 at Piedmont's Mason-Scharfenstein Museum of Art.
Goodwin grew up in Mississippi and studied art in Portland, Oregon. In 2016, he moved to Blue Ridge, Georgia. His subjects reflect the rural South and are allegories of contemporary life. His work is part of many private collections, and he is represented by Valley House Gallery in Dallas, Texas.
"I'm excited to bring Miles' work to campus," said Rebecca Brantley, assistant professor of art and director of the MSMA. "He is a figurative painter who knows a lot about traditional techniques and art history. His paintings reflect his adopted home in Southern Appalachia and the MSMA's dedication to showing the talent of our region."
Goodwin's "A Day on Earth" will be open to the public Jan. 12-March 23. The MSMA is located at 567 Georgia Street in Demorest and is open from noon to 5 p.m., Tuesday-Saturday. A reception marking the opening of the exhibition will take place from 5-7 p.m. on Jan. 12. Both the exhibition and opening reception are free to attend.
Piedmont Camerata takes the stage at the Chapel on the Demorest campus, 992 Central Ave., at 4 p.m. on Jan. 29. The ensemble includes Heather Baird-Strachan, violin; Rachael Fischer, violin; Scott Garrett, viola; Ismail Akbar, cello; and Jeri-Mae G. Astolfi, piano. Dean of Libraries and College Librarian Bob Glass will serve as commentator and host.
The performance will feature chamber music from the 18th and 20th centuries by composers Wolfgang Amadeus Mozart, Dmitri Shostakovich, and Amy Beach.
Learn more about Piedmont's fine arts events and programs at piedmont.edu/fa.