Back to news
Piedmont University's November Events Include Concerts, Exhibition by Local Artist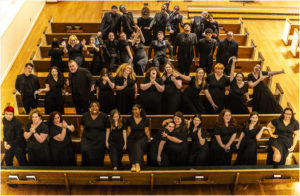 Piedmont University's November events include performances by the Wind Ensemble and Singers, as well as the final weeks of an exhibition featuring local artist Joni Mabe.
Piedmont University Wind Ensemble
Nov. 10
7:30 p.m.
The concert will begin with a chamber music showcase to highlight the diverse combinations and unique timbres available in a wind ensemble. These smaller groups run the gamut, including a percussion quartet and jazz ensemble. In the second half of the concert, musicians will join forces to perform as one unit. The repertoire draws from both European classical masters and contemporary American composers.
Piedmont University Singers
Nov. 17
7:30 p.m.
The Piedmont University Singers, made up of 34 students, will perform works by Knut Nystedt, Daniel Gawthrop, Benjamin Britten, Maurice Durufle, Ēriks Ešenvalds, and Alison Krauss, as well as arrangements of gospel songs and spirituals. "Stars," by Ešenvalds, includes tuned wine glasses, and Britten's "Jubilate Deo" and "Sanctus" by Durufle feature the Sewell Organ played by Louise Bass, artist-in-residence. "The majority of our pieces explore 'the heavens' both in spiritual and natural terms. The audience will be able to hear rarely performed pieces, as well as pieces which may be familiar to them. The audience will have the opportunity to sing along with the choir on one piece," said Dr. C. Wallace Hinson, director of the Conservatory of Music and associate dean of the School of Fine Arts and Communications.
Joni Mabe Exhibition
Through Nov. 29
Tuesday-Saturday
Noon-5 p.m.
Artist Joni Mabe is creator of the Everything Elvis Museum at the Loudermilk Boarding House in Cornelia. Her multimedia paintings, assemblage sculptures, and books have been displayed throughout the nation, including at the Center for Book Arts (New York), the Ernie Wolfe Gallery (Los Angles), and the Honolulu Academy of the Arts (Hawaii). She was selected for the 2019 Atlanta Biennial at Atlanta Contemporary and is part of the permanent collection at Georgia's Museum of Contemporary Art. Her awards include a Ford Foundation grant in 2018.
All events are free and open to the public.
The concerts will take place at the Chapel on the Demorest campus, 1021 Central Avenue. The exhibition is installed at Piedmont's Mason-Scharfenstein Museum of Art, 567 Georgia Street.
See Piedmont's full event calendar at piedmont.edu/events.