Back to news
Piedmont MBA Grad and State Trooper Tedarrius Teasley is Well Positioned for Career Advancement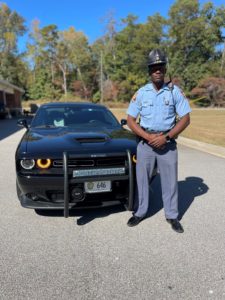 Georgia state trooper Tedarrius Teasley carries an unexpected credential on his resume — a Master of Business Administration from Piedmont University.
"It's definitely unusual," said Teasley, who is based in Gainesville and patrols Hall, Banks, and White counties.
"I think it sets me apart, and I think it will help me as I climb the ranks into administration."
A graduate of East Hall High School, Teasley always had an interest in law enforcement. While completing his bachelor's degree in criminal justice and human services at University of the Cumberlands, Teasley reconnected with his now-wife, Eboni, who was studying at Piedmont University.
To be closer to home — and her — Teasley decided to continue his own education at Piedmont. He graduated with his MBA in December 2017.
His decision to come to Piedmont set in motion several life-changing events. He and Eboni, who'd known each other in high school but then lost touch, now have four children. Also, while at Piedmont, Teasley connected with a state trooper who lived near campus, and he soon decided that was the path he would take in life, too.
During the course of the MBA, Teasley developed a number of skills that he uses every day.
"One example would be leadership skills. I am not a supervisor, but I am a field training officer," Teasley said, explaining that field training officers oversee new troopers during the final stages of their training.
"Indirectly, I am a first-line supervisor, and the leadership skills I developed at Piedmont help me to communicate and develop new officers."
Teasley also uses his communication skills, which he honed through written assignments, class presentations, and group discussions, to build positive relationships with the public.
"For a lot of people, they see their interactions with law enforcement as only negative. I try to communicate effectively and relate to people, so that even if I am giving them a ticket for speeding or holding their phone, they understand that I'm doing it because I care, because statistics show that writing them a ticket will reduce their chances of getting into an accident in the future," Teasley said.
"I try to create a more positive interaction. I try to express that I care not only about the people I pull over but other people on the road. I've actually had people thank me when I hand them their ticket because they understand what I'm doing and why."
Looking back, Teasley can see how Piedmont has changed the course of his life so far, but looking ahead, he's certain more is yet to come from his Piedmont decision. The MBA positions him well to climb the ranks of the Georgia State Patrol, to manage personnel and a budget, and all the other responsibilities that come with administration.
"Because of my MBA, I have all these tools in my bag," he said. "I'm going to make sure I use them."
Learn more about Piedmont University's Master of Business Administration at piedmont.edu/mba.