Back to news
Piedmont University Invests in Faster, Safer, More Reliable Internet Service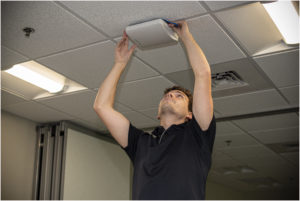 Piedmont University students will enjoy faster, safer, and more reliable internet service this semester.
"This is a substantial investment in campus technology and will make a big difference in the students' academic experience," said Chief Information Officer Greg Jackson.
Last week, Piedmont personnel completed the installation of 260 Wi-Fi access points across both the Demorest and Athens campuses. Access points are being installed in every campus facility, including academic buildings and residential halls.
The new access points are Wi-Fi 6- enabled and will support up to 1,024 devices each. Piedmont's Wi-Fi service will be up to 40 percent faster than it was prior to the access point project.
"We ordered these access points last October, but because of supply chain issues, only received them a few weeks ago, but the wait was well worth it," Jackson said. "Our students are definitely going to notice a difference this semester."