Back to news
Piedmont University Welcomes First Neuroscience Majors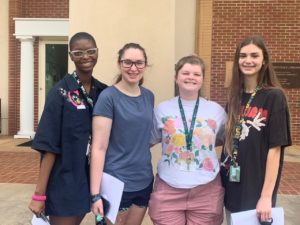 This semester, Piedmont University is welcoming its first class of Bachelor of Science in Neuroscience students. 
Each of the students say the degree — and Piedmont — fit just right.
The class includes:
Cooper Williams, of Lilburn, Georgia, who was intrigued by neuroscience after watching her mother work with a neurologist.
Mary Beall, of Macon, Georgia. While training to become an emergency medical technician, Beall decided she wanted to work with children who have experienced trauma. The Bachelor of Science in Neuroscience will prepare her for that path. Beall said Piedmont was exactly the type of environment she was looking for in a college. "I went to a small high school. I wanted to have that same one-on-one with my teachers that I had in high school," she said.
Madi Allen, of Burleson, Texas, who was also drawn by Piedmont's small class sizes and the neuroscience major's ability to prepare her for a variety of careers.
Anna Gibson, of Calhoun, Georgia, who was working as a server at IHOP when members of the Piedmont men's cross-country team were seated in her section. She talked to them, met their coach the next day, and decided she would study at Piedmont, too. She chose neuroscience because it will prepare her for a career as a therapist.

"We're thrilled to have Cooper, Mary, Madi, and Anna on campus and can't wait to help them learn, grow, and thrive both in the program and in all aspects of their college careers," said Michael Friedline, assistant professor of psychology.
The Bachelor of Science in Neuroscience program launched in fall 2021. The program focuses on studies of the brain and its impact on behavioral and cognitive function. The degree prepares students for careers in fields such as medicine, psychology, psychiatry, and more.
Learn more about the Bachelor of Science in Neuroscience at piedmont.edu/program/neuroscience.