Back to news
Piedmont University Announces 2022-23 Fine Arts Events, Including Performance by Vienna Boys Choir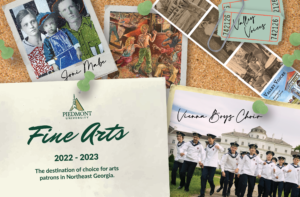 The Vienna Boys Choir, acclaimed Georgia-based artists, the debut of two new ensembles, and a pair of student productions are among the fine arts events planned for Piedmont University this year.
Piedmont has released its full 2022-23 fine arts schedule.
"In the School of Fine Arts, our mission is to provide both high quality arts education for our students and arts programming for the broader community," said Dr. Wallace Hinson, director of the Conservatory of Music and associate dean of the School of Fine Arts and Communications.
"Our 2022-23 fine arts schedule includes exciting showcases of both student talent and world-renowned artists. It's going to be a very exciting year for the arts at Piedmont University."
The 2022-23 fine arts schedule includes:
A performance by the Vienna Boys Choir, the world's most storied and celebrated children's choral group. The Vienna Boys Choir was founded in 1498 by Roman Emperor Maximilian I. In its 500-year history, the Vienna Boys Choir has inspired original works by Mozart and Schubert, produced such famed conductors as Hans Richter and Clemens Krauss, and toured the world multiple times over. The Vienna Boys Choir was originally scheduled to perform at Piedmont in February 2022, but the performance was cancelled because of COVID. The choir will now perform at 7:30 p.m. on Oct. 29 at the Chapel on Piedmont's Demorest campus, 992 Central Ave.
The debut of Piedmont's newly formed professional orchestra, Piedmont Pro Musica Orchestra. The Orchestra is comprised of players from all over the region, from Atlanta to Greenville, South Carolina. Piedmont Pro Musica will perform works for and from the Czech Republic by Antonin Dvorak, Bohuslav Martinu, and W.A. Mozart. Piedmont Pro Musica will perform at 7:30 p.m. on Sept. 23 at the Chapel.
The debut of the Pro Musica Choir, a fully professional ensemble, one of the few of its kind in Georgia, consisting primarily of Piedmont alumni who have established careers as music teachers and performers.
Performances by the local Lux Treble Choir; Bloom-Funkhouser Duo, comprised of flutist Peter H. Bloom and pianist John Funkhouser, both veterans of the famed Aardvark Jazz Orchestra; and the innovative Seipp/Sheets Trumpet and Organ Duo, which includes trumpeter Chuck Seipp and organist Randall Sheets.
Exhibitions featuring Athens-based artist, folklorist, and teacher Art Rosenbaum, who mentored Michael Stipe of the band REM; Georgia native Joni Mabe, known for her Travelling Museum of Obsessions, Personalities & Oddities, which has been displayed in both Hollywood and New York; and Michael Cleveland Goodwin, a painter who's been featured in exhibitions across the country.
Student productions of Peter and the Starcatcher and Bright Star, a musical written and composed by Steve Martin and Edie Brickell set in the Blue Ridge Mountains in the 1940s.
Details about these and all other 2022-23 fine arts events, including ticket information, can be found in the schedule. For more information about Piedmont's Fine Arts programs and events, visit piedmont.edu/fa.