Back to news
Two-Time Piedmont Business Grad 'Ready and Excited' for Challenges of His New Job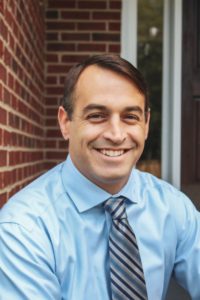 Two-time Piedmont University Walker College of Business alumnus Joe Vanstone will start a challenging new position later this month — but, thanks to his education, he's ready.
"This new job is going to be a challenge. I'm taking a leap of faith, but I have full confidence because I have my master's degree and all the training I received from Piedmont," Vanstone said.
"Piedmont prepared me through and through for this next step in my career. I'm excited."
Vanstone, a U.S. Army veteran who served as a sergeant with the 82nd Airborne, holds bachelor's degree in business and a Master of Business Administration from Piedmont.
A native of Minnesota, Vanstone moved to Covington, Georgia, as a child. After high school, Vanstone enlisted, spending six years based at Fort Bragg, North Carolina. When his service ended, he completed an associate degree, then took a few years to buy a house and readjust to civilian life.
While working as an entry-level employee for Caterpillar, the Illinois-based maker of construction and mining equipment, engines, and locomotives, Vanstone decided he wanted to climb the company ladder. To do that, he would have to advance his education.
He'd always heard great things about Piedmont, particularly the real-world experiences business faculty members use in their classroom instruction. Plus, Piedmont offered the classes he needed at times that he could balance with his work schedule.
"Caterpillar was flexible with me. I would go to work in the afternoon, then leave to take night classes at the Athens campus, then go back to work and stay there until 3 or 4 o'clock in the morning. I did that for all five years or so that I attended Piedmont," he said.
Vanstone added that the small class sizes and relationships he was able to forge with staff and faculty members helped him feel supported.
"That is really important for veterans going back to school. Going back to school after the service is a big adjustment," he said.
With each class he took, Vanstone felt better equipped to lead at work. His supervisors took notice. In the span of just a few years, he went from an associate making $11.20 an hour to an assembler, then a team lead, engineer planner, and then a twice-promoted supervisor.
"Everything I was learning at Piedmont I was able to put to use at work the very next day. If I'd gone to one of those big football schools, I wouldn't have gotten the quality education I did at Piedmont. I loved it," he said.
Vanstone especially benefitted from courses in human resources and management. He learned to identify efficiencies, better manage employees' time, and effectively handle personnel issues, but most important, he learned how to motivate those around him.
"You don't treat everything like a nail that has to be hit with a hammer. Each personality is different. You have to take the time to get to know your people and connect with them as human beings," he said.
Vanstone can recall several instances in which his ability to reach others resulted in measurable results, including this one:
"It was 2020 and I was working on a line that produces mini hydraulic excavators. The supervisor was a great mentor to me. When he went on vacation, the mainline defaulted to me. We had a goal back then of producing 32 excavators in a 10-hour shift, but we couldn't reach it.
"The first day he's on vacation, I just observe. We did 29 machines. The next day, I went out on the production floor and started to help. I let the employees know I'd been in their position before, and I was willing to help them. If they were running low on parts, I'd restock. I gave them encouragement. I let them know I was right there for anything they needed."
That day, the production line hit the 32 goal with time to spare.
"The employee engagement was what was needed. The employees liked the support. They liked knowing that everyone was in it together, that we are all one team. That's the kind of leadership Piedmont prepared me to provide."
Later this month, Vanstone will begin working as an associate director for a manufacturer and distributor of veterinary pharmaceutical products. He'll be overseeing other supervisors in an entirely automated environment. His new position is a "stretch of his professional skills," Vanstone said, but he's ready for whatever the job brings.
"Piedmont was my No. 1 choice, and it helped me get where I am today," he said.
Learn more about the Walker College of Business at piedmont.edu/academics/business.