Back to news
Piedmont University's Camerata to Perform Free Concert on Aug. 28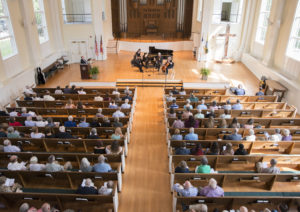 Piedmont University's artists-in-residence chamber ensemble, Piedmont Camerata, will present a free concert at 4 p.m. on Aug. 28 at the Chapel on the Demorest campus.
The ensemble includes Heather Baird-Strachan, violin; Rachael Fischer, violin; Scott Garrett, viola; Ismail Akbar, cello; and Jeri-Mae G. Astolfi, piano. The performance will also include Dean of Libraries and College Librarian Bob Glass as commentator and host.
The concert will feature classical chamber music for piano and strings from the 18th-20th centuries by composers including Ludwig van Beethoven, Felix Mendelssohn, Gabriel Fauré, William Grant Still, and Phillip Scharwenka.
"This is a chamber music program of great variety, from an early string trio by Beethoven to the fun 'Panamanian Dances' by American composer William Grant Still, and an intensely dramatic work by Polish composer Philipp Scharwenka," Astolfi said.
"This will be an enjoyable and enlightening afternoon of chamber music masterworks and insightful commentary."
The Chapel is located at 992 Central Ave. in Demorest.
Learn more about Piedmont's fine arts events and programs at piedmont.edu/fa.