Back to news
Business Alumna Succeeds by Building Relationships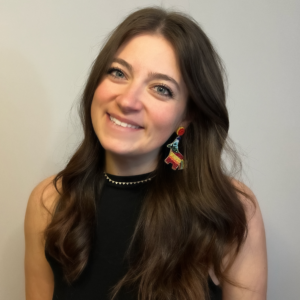 As a business student at Piedmont University, Ashton Peeples learned to analyze data, make strategic decisions, lead others, and present herself professionally, but by far the most important lesson was this:
"I learned that people will always remember how you make them feel. Piedmont made me feel like I matter as a person," she said.
It's a lesson that Peeples applies every day in her work as director of business development and sales operations for Signature Leaders, an Atlanta-based provider of professional development for women and underrepresented executives.
"In every interaction, I try to make others feel seen for who they are and cared for. I put effort into the time I spend with them, and I build relationships. That's what I experienced as a student at Piedmont, and it made all the difference," she said.
Growing up in Albany, Georgia, Peeples thought she'd become a doctor, but changed her mind after taking chemistry. She considered becoming a lawyer, but eventually realized that wasn't the right fit either.
Not long after starting her college education at the University of Georgia, both of Peeples' maternal grandparents died. Amid her grief, she took a break from her studies. When it was time to start again, she sought a closer-knit, more supportive environment.
Piedmont was exactly what she needed.
In 2015, she earned a Bachelor of Business Administration, with concentrations in marketing and management, and in 2016, she completed her Master of Business Administration.
"What's funny is that it was the show 'Mad Men' that got me thinking about marketing," Peeples said.
"When I transferred to Piedmont, the faculty took time to really get to know me and to help me know myself. That's when the idea of marketing went from something I thought seemed cool on a TV show to a field that felt right for me."
Along her journey, in part because of the individualized attention she received at Piedmont, Peeples realized the power that comes with being her authentic self. Professional women in particular, she said, often feel pressure to conform to the "boxes of what others think they should be."
"I remember making a presentation and being asked a question that I didn't know the answer to. My first thoughts were: 'Do I lie? Is not knowing going to ding me? Do I postpone or deflect?' In that split- second, I decided that if I'm to be trusted, I have to actively live who I am. I can't be afraid," she said.
"The only way for me to relate to people and build relationships is to be honest and my true self."
Peeples answered the question with a polite, "I don't know, but I'll get back to you," and decided then and there to always be herself, even down to her wardrobe choices. On the day she was interviewed for this article, Peeples wore brightly colored elephant-shaped earrings.
"Women in business might be expected to wear smaller, more discreet earrings, or no earrings at all," Peeples said. "My clients have come to expect big, bright earrings that show my personality."
Peeples' adherence to authenticity has served her well in the professional world. Signature Leaders has provided training to companies including AT&T, Coca-Cola, Duke Energy, Hilton, Kaiser Permanente, LinkedIn, and Merck. Its training programs are designed to help executives discover and leverage their unique skills and leadership style.
"No two signatures are alike — that's the idea behind what we do at Signature Leaders," Peeples said. "It is amazing to see participants grow through the program and discover their true selves."
In the future, Peeples hopes to encourage executives to mentor those still climbing the ranks, and in doing so, remove barriers for females and other underrepresented professionals. Wherever her career takes her, Peeples said she'll remain true to herself — and the lessons she learned at Piedmont.
"I felt so connected with my teachers at Piedmont, and that made me want to work harder," she said.
"Genuine relationships are what really matter."
Learn more about Piedmont's business degrees at piedmont.edu/business.