Back to news
Three-Time Piedmont Education Alumna Is Now Hall County Schools Content Specialist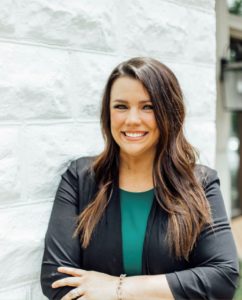 Three-time Piedmont University College of Education graduate Courtney Peck will start a new position with Hall County Schools this fall, one that will allow her to help shape the educational experiences of middle school students throughout the district.
"My goal is to make sure all students are able to see themselves in the curriculum. When they're able to make a personal connection with what they're learning, they're much more likely to be successful," said Peck, who earned her Master of Arts, Education Specialist, and Doctor of Education degrees at Piedmont. 
Beginning in the 2022-23 school year, Peck will serve as Hall County Schools' English language arts middle grades content specialist. In that role, Peck will support teachers throughout the district, providing them with everything from training and resources to feedback and encouragement.
"I'm their point person for anything they need. I want our teachers to know they're supported in the important work that they do," Peck said.
Peck's new position comes after many years spent in her own classroom.
As a student herself, Peck struggled with English language arts in middle school. An influential teacher helped her to develop her reading and writing skills so dramatically that she was able to work with the school newspaper.
She began college as a communications major, but while working with seventh-grade girls at her church, she decided to become a middle school teacher — and make the same difference for others that her own teacher had made for her.
"I realized that I am able to relate to kids, and that I could be that trusted adult, the one that they could come to and feel safe. I could be the sounding board and help them make positive decisions," she said.
For the last nine years, Peck has taught seventh grade at C.W. Davis Middle School in Flowery Branch. She's used her classroom as a space to teach reading and writing skills, as well as to help her students better understand themselves and one another.
"I want to help my students feel confident in themselves and teach them to be kind humans," Peck said.
"I want to create an equal playing ground in my classroom, where students are respectful and listen to one another, where they understand that it's important to learn about different people and make connections with them."
One strategy Peck uses is to select curriculum materials that represent the diverse backgrounds of her students.
For example, during Hispanic Heritage Month, she had her students watch a TED Talk featuring actress, producer, and director America Ferrera, whose parents are from Honduras.
"Afterward, one of my students slipped me a letter," Peck said. "She wrote that she always felt like she had to be white at school but Hispanic at home. After watching the TED Talk, she felt she could embrace her ethnicity, no matter where she is."
That student joined the school's broadcasting team because she wanted to use the forum to highlight other heritage months, in turn helping her fellow students feel accepted in the school community.
In her new role as content specialist, Peck will help teachers throughout Hall County make the same difference for their own students.
Piedmont University provided Peck with the skills she needed to positively impact students — both at the classroom and district level.
"The best teachers I had were at Piedmont. I was challenged, and I was prepared to become an expert in curriculum and instruction," she said.
"I've always been very proud to say I came through Piedmont."
Learn more about Piedmont's Education programs at piedmont.edu/academics/education.