Back to news
Piedmont University's Cantabile, Strings Ensemble to Perform in March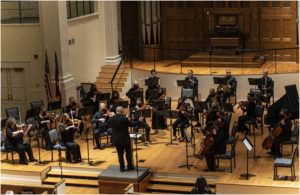 The talents of Piedmont University's Music programs will be on display during two events planned for late March.
Piedmont's Cantabile, a seven-voice a cappella ensemble, will perform at 5 p.m. on March 29 at the Conservatory of Music. 
"Attendees will hear a program focused on cycles. We'll sing our way through a liturgical year with mostly Renaissance music, a day from morning to night with an eclectic mix of pieces, and a cycle of life, from birth to death, using 19th-century part songs and spirituals," said Mark Woodcock, adjunct professor and director of Cantabile.
"The concert has something for everyone. Fans of jazz, Dolly Parton, African-American spirituals, and late Renaissance polyphony will all find something to love."
Woodcock added that a highlight of the performance will be a jazz arrangement of Ciao Bella, Ciao. Dr. Wallace Hinson, director of Piedmont's Conservatory of Music and associate dean of the School of Fine Arts, will join the Cantabile on stage for the performance.
"It is an elegant and charming piece that is a total delight to sing and listen to," Woodcock said.
The Piedmont Conservatory Strings will perform a concert of Baroque works by composers including Biber, Frescobaldi, Purcell, and Telemann at 7:30 p.m. on March 31 at Piedmont's Chapel.
A highlight of the event will be Catherine Gunn, soprano, performing Goodnight Moon by Eric Whitacre with the ensemble. Gunn is a senior who will soon graduate from Piedmont.
Heather Strachan is the music director for the Piedmont Conservatory Strings. Hinson will be guest conductor for the concert.
Both the Conservatory of Music and the Chapel are located on Piedmont's Demorest campus, 1021 Central Avenue.
The performances are free and open to the public.
For more information about Piedmont's Fine Arts events and programs, visit piedmont.edu/fa.