Back to news
Piedmont MBA Grad Opens Salon to Fulfill Dream She Shared with Deceased Sister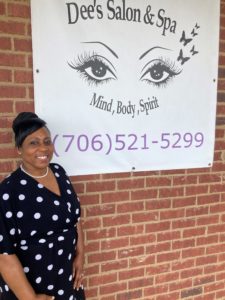 Just as she always planned, Pamela Johnson-Upson is using her Master of Business Administration degree to manage the hair salon she dreamed of opening with her sister.
What wasn't in Johnson-Upson's plan: losing her sister and instead opening the salon in her memory.
"I think she would be very happy; I hope she is when she looks down at us," Johnson-Upson said.
An Athens native who graduated from Madison County High School, Johnson-Upson has had numerous careers and proven time and again there's nothing she can dream that she can't accomplish.
She earned a bachelor's degree in Computer Science from Georgia College & State University. Worked as a mainframe programmer for the University of Georgia. Served as chair of the Business Management program at Athens Technical College. Taught fourth grade at Winterville Elementary. Worked as an actuarial analyst, a fraud analyst, and as a public relations director.
The list of achievements goes on and on.
Along the way, she learned of Piedmont's MBA and thought it would give her just the training she needed to accomplish her entrepreneurial goals.
She was right.
"I've gotten so much out of my Piedmont degree," she said.
Johnson-Upson still uses lessons in writing business plans and calculating ROI that she learned while studying at Piedmont, and her education has allowed her to help numerous friends and family members start successful enterprises.
"One example is my husband's trucking business," Johnson-Upson said.
"I helped him write the business plan. Today, his trucking company is fully paid for. He moves food for companies such as Publix and Pilgrim's."
Johnson-Upson's husband is named Zwencyl. His company is Z&P Logistics — for Zwencyl and Pam.
Of all the business dreams Johnson-Upson has helped make come true, the one that means the most to her is Dee's Salon and Spa.
Years ago, Johnson-Upson's sister, Cordelia Dee, was pursuing her state cosmetology license and dreaming of owning a salon. Johnson-Upson enrolled in Piedmont's MBA program in order to manage the books, employees, and all the business-related aspects of the salon.
By the time Johnson-Upson graduated in 2005, Cordelia Dee had died of breast cancer.
"She passed the year I graduated and right before her license arrived in the mail. I have her license framed and hanging in the salon," Johnson-Upson said.
In the 15 years between her sister's death and the opening of Dee's Salon & Spa, Johnson-Upson worked to support Cordelia's five children, who at the time of Cordelia's death ranged in age from 3 to 16.
No matter how much time passed or how much life changed, Johnson-Upson never let go of the dream she and her sister shared, and in 2020, it came true with the opening of the salon, which is located in Hull and represented by a logo consisting of a set of female eyes and five butterflies — one for each of Cordelia's children.
"The salon is very diverse. We do everybody's hair. That's why I like about it. We don't just serve one group of people," Johnson-Upson said.
"We also use a lot of natural and essential oils. We wanted to create a calm place for people to come after work."
Next door to the salon is another of Johnson-Upson's enterprises: Wiz Academy, a STEM-driven after-school and summer program for children.
Several of Cordelia's children work or have been involved in the development of the salon and academy.
"I promised her that there would be something for her children, and there has been," Johnson-Upson said.
"They all graduated from high school. Two graduated from college. One is an entrepreneur. We have dreams for the future. They have a future."
Johnson-Upson is now pursuing her master cosmetologist license from the State of Georgia, which will allow her to expand her role in the salon. She also teaches computer science part time at Cedar Shoals High School in Athens. A doctoral degree may come next for her.
Whatever she does, two things won't change: She'll keep working to make professional dreams come true — whether their hers or those of her family members and friends — and she'll keep using her Piedmont education to make it all happen.
"I use the skills I learned at Piedmont every day," she said, "and I've used them to do some great things — but the best is always yet to come."
Learn more about Piedmont's Master of Business Administration at piedmont.edu/academics/mba.