Back to news
Piedmont Business Alumna Now Regional VP of Global Financial Firm, Helps Clients' 'Dreams Come True'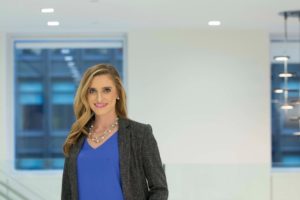 As the regional vice president of a global investment firm, Maryrose Burns strives to build relationships with her clients, to know the people behind the portfolios, and to help them make their financial dreams come true.
To accomplish her goal, she draws on her experiences at Piedmont University, where she thrived in small classes that allowed her to connect with her professors and classmates.
"At Piedmont, there was a real willingness to help and to be a mentor to the students that stuck with me immensely," said Burns, regional vice president with New York-based VanEck Securities, who earned a Bachelor of Business Administration in 2015.
"I try to do the same for my clients — and for people in general. Where I can be a help, I always try to be a help."
Burns transferred to Piedmont University in her junior year. Though she was originally drawn by the opportunity to continue her collegiate softball career, the one-on-one attention she received from Walker College of Business faculty sealed her decision.
"At the time, Dr. John Misner was dean of the College of Business," she said.
"I remember he spent an hour and a half talking to me about what I wanted to do professionally. We went over my transcripts and talked about what I might do during and after college," she said.
That initial meeting proved to be just one of many meaningful interactions she would have during her two years at Piedmont.
"One thing I really liked about the College of Business was that everyone had a professional background prior to getting into education. That brought a lot of unique perspective and real-world experience into the classroom," she said.
"The professors didn't just teach from a textbook."
Burns named Professors Charles Nichols, Gerald Sullivan and Ed Taylor as being particularly influential.
She sees a reminder of her time at Piedmont every day. It's taped to her refrigerator.
"At the beginning of one of my courses with Dr. Sullivan, he told us the fable of the antelope and the lion. It talks about how the antelope wakes up every day telling himself that he needs to run faster than the fastest lion, and the slowest lion wakes up saying he needs to run faster than the slowest antelope," she said.
"It reminds me every day to get up and work hard."
In her position with VanEck, Burns works with financial advisors, helping them to select products that align with their clients' goals. In addition to servicing existing clients, she is responsible for new client acquisition. She oversees approximately $3 billion in capital for the firm.
Her position allows her to work both with finance and with people — two things she knew she needed to be happy in her career. Her professors at Piedmont helped her choose her career path.
"I've always acknowledged money as a tool, ever since I got my first bank account at 6 years old, and I fill up by being around people and getting to work with different people every day," she said.
"It's very fulfilling, knowing that I'm helping people reach their goals. Whether they're working for a second home or retirement, I get to help them make that dream come true."
Learn more about Piedmont's Walker College of Business at Walker College of Business | Piedmont University.