Back to news
Piedmont University Singers to Perform Wide-Ranging Repertoire for Audiences in January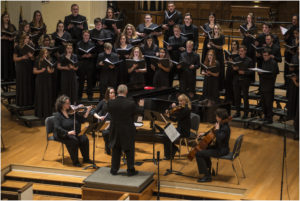 The Piedmont University Singers will perform pieces covering a half-century of choral music history during a free concert at 7:30 p.m. on Jan. 25 at the Chapel on Piedmont University's Demorest campus. The Singers will then give the same performance on Jan. 29 in Athens for the Georgia Music Educators Association.
The GMEA is an affiliate of the National Association for Music Education. GMEA's membership includes approximately 3,000 public school, private school, college and university, and private studio music teachers.
The Piedmont Singers will perform as part of GMEA's annual conference. It is the third time Piedmont has been invited to perform at the event.
"The audience for GMEA will be choral directors from all across Georgia. It is a huge honor to have been selected," said Dr. C. Wallace Hinson, director of Piedmont's Conservatory of Music and associate dean of the School of Fine Arts.
"We're very excited to offer our audience here in Demorest the chance to experience our performance."
The Singers will perform pieces including:
Laudate Dominum by Knut Nystedt
Rorate coeli by Palestrina
Hymn to the Eternal Flame by Stephen Paulus
Trinity Te Deum by Ēriks Ešenvalds
Napady pisne by Antonin Dvorak
El Hambo by Jaakko Mäntyjärvi
"In addition to covering about 500 years of choral music, the program also represents four different languages: English, Latin, Czech and Swedish," Hinson said.
"The highlight of the program is the Trinity Te Deum for choir, organ, harp, brass, and percussion."
The Jan. 25 performance is free and open to the public. Face coverings will be required.
The Chapel is located at 992 Central Ave., in Demorest.
For more information about Piedmont's Fine Arts events and programs, visit piedmont.edu/about-piedmont/fine-arts-piedmont/.