Back to news
Piedmont Will Celebrate First-Generation Students on Nov. 8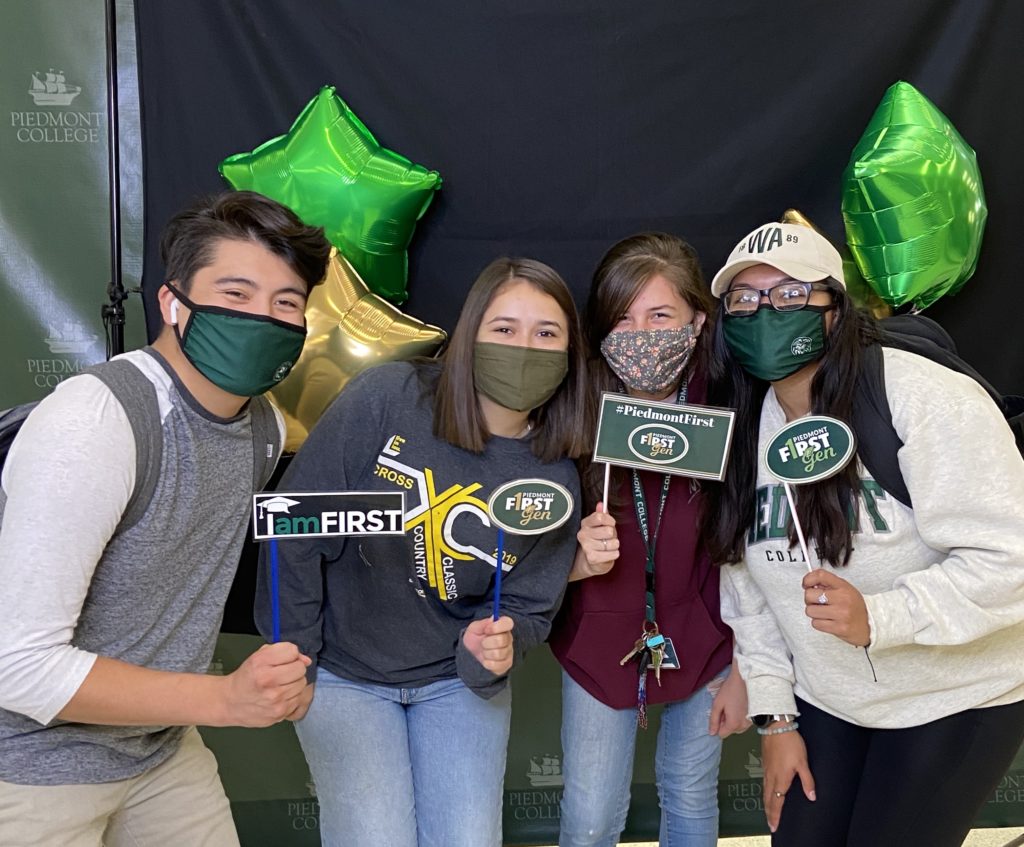 On Monday, Nov. 8, Piedmont University will celebrate first-generation students, faculty, staff, and alumni. To be First-Gen means a student's parents did not complete a four-year college degree.
The 2021 First-Gen Student Celebration will be held 10:30 a.m.-1:30 p.m. upstairs in the Commons Conference Room in Demorest and in Room 312 on the Athens campus. The First-Gen event will also be livestreamed here.
Light refreshments will be served and there will be a photo booth, free t-shirts (limited supply), stickers, and buttons.
Dr. Octavius Mulligan '93 was a first-generation student who earned four degrees from Piedmont (MA '00, EdS '02, and EdD '14). He will be the guest speaker for the event in Demorest at 10:30 a.m. A panel of First-Gen faculty/staff will follow at 11:30 a.m. and Career Services will present at noon.
In conjunction with the celebration, a FAFSA Q&A with financial aid representatives will take place in Athens from 10:30 a.m.-1:30 p.m. In Demorest, a FAFSA workshop will be held from 2-5 p.m. in Daniel Hall, Room 305.
Students and faculty may sign up on Starfish and staff may RSVP to Ineke Dyer, director of student support services, idyer@piedmont.edu.
"We are thrilled to celebrate National First-Gen Day at Piedmont this year," Dyer said. "Being the first in your family to go to college and obtain a college degree is an incredible accomplishment. This day is designed to celebrate those students, faculty, and staff who embarked on this unfamiliar path and have either obtained their degree or are in the process of doing so. We are here to cheer you on and celebrate you."
More than 40 percent of Piedmont's 2021-22 freshman class are first-generation students. Many members of Piedmont's faculty and staff are first-generation as well, including Cindy Peterson, associate vice president for undergraduate enrollment; Dr. Matt McKinney, assistant athletic director of sports performance and athletic trainer; and Dr. Beth Lovern, associate professor, sociology and anthropology.
Adjusting to college life is a challenge for all students, but for those who are the first in their family to attend a university, those challenges may feel more like roadblocks. Students aren't sure what to expect. Piedmont encourages and supports first-generation students and has been recognized for its efforts. In 2020, Piedmont was named a First-Gen Forward Institution for improving the experiences and advancing the outcomes of first-generation college students.