Back to news
Piedmont University Presents 'Walk Two Moons' Beginning Nov. 18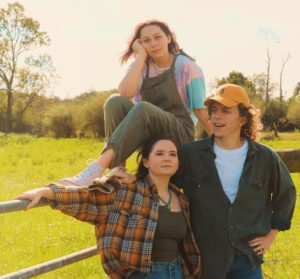 Piedmont University's Theatre Department will present Walk Two Moons, a story of abandonment, grief, and identity, beginning Nov. 18.
Based on the bestselling Newberry Medal-winning novel by Sharon Creech, Walk Two Moons follows 15-year-old Sal and her friend, Phoebe. Sal's mother left her more than a year ago, and Phoebe's mother has recently disappeared.
The disappearance of Phoebe's mother brings back painful memories for Sal. The two girls begin to concoct murderous plots and schemes to explain the disappearance of Phoebe's mother. Sal shares her conspiracy theories with her grandparents during a cross-country trip to confront her mother.
Through the telling of her friend's story, Sal ultimately realizes that things — and people — are not always what they seem.
"That realization ties to the proverb that inspired the title of the show: 'Don't judge a person until you have walked two moons in their moccasins,'" said Kathy Blandin, associate theatre professor and director of Walk Two Moons.
Freshman Carly Jelnick plays the character of Sal.
"Sal places herself in the shoes of several other characters during the play and becomes more compassionate and understanding as a result. Imagine how different the world would be if we all did that," Blandin said.
In addition to Blandin, the crew of Walk Two Moons includes:
Cole Korch, assistant director
Todd Blandin, set designer
Jonathan Furlow, lighting designer
John Spiegel, sound and costume designer
Sierra Maxwell, sound design assistant
Mary Gaines, costume design assistant
Brittney Wilder, stage manager
In addition to Jelnick, the cast includes:
Garrett Smith, John
Ashton Black, Ben
Jo Collinson, Phoebe
Violet Clements, Gram
Carson Letner, Gramp
Haley Patterson, Mrs. Winterbottom
Hunter Reum, Mr. Winterbottom
Seven Goodwyn, Mr. Birkway
Lizzy Carver, Sugar
Tyler Pelligrino, Boy
Megan Zimmerman, Police Officer/Nurse
Murphy Cochran, Brother
Dante Wilson, Mike/Lunatic
Alex Beatty, Mrs. Partridge
Hailey Collins, Mary Lou
Mathew Poe, Paramedic/Sheriff
Cheyenne Welborn, Margaret
Ian Williams, Detective Bickle
Walk Two Moons will be performed Nov. 18-20 at 7:30 p.m. and Nov. 21 at 2 p.m. at the Swanson Center Black Box Theatre, located on Piedmont University's Demorest campus, 1021 Central Ave.
Tickets are $5 for the public. Call 706-778-8500, ext. 1355, to purchase tickets. Piedmont University students, faculty, and staff are free.
Face coverings and social distancing will be required.
For more information on Piedmont's Theatre Department, visit www.piedmont.edu/program/theatre-arts.