Back to news
Piedmont Honors Outstanding Alumni at Homecoming Ceremony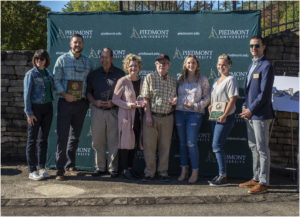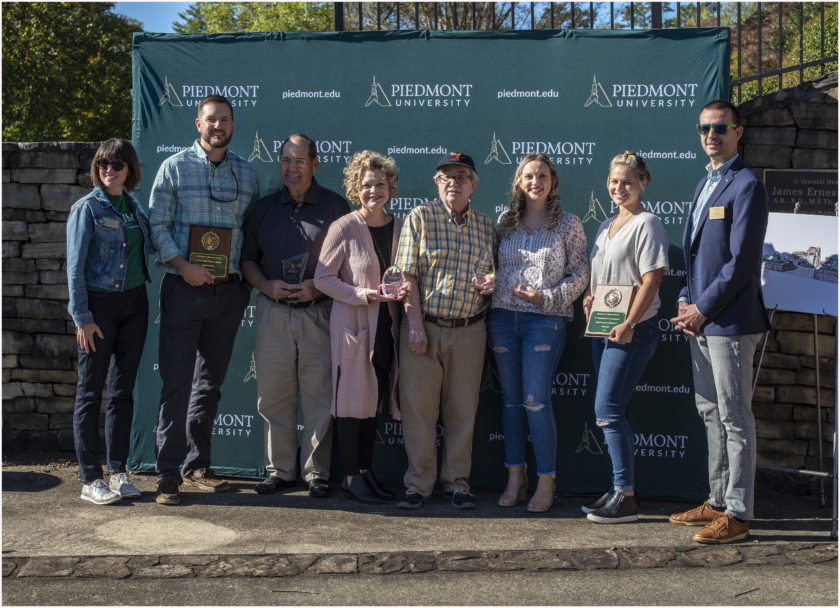 Piedmont University honored several outstanding alumni during its Homecoming festivities on Oct. 23.
In addition to the presentation of Alumni Awards and inductions into the university's Sports Hall of Fame, Homecoming included entertainment by Atlanta Rhythm Section and Ivan Duke Band, as well as an art exhibit honoring deceased professor Leroy Young.
"It was an outstanding weekend spent celebrating the success of this university as well as the many alumni who have gone on to do great things with their Piedmont degrees," said Vice President of Institutional Advancement Craig Rogers.
"We congratulate our alumni honorees on their success, and to all our alumni, we hope to see you at future Homecoming events."
Alumni award honorees included:
Caitlin Fisher, who received Piedmont's Pacesetter Award. Fisher is a Florida native who graduated from Piedmont in 2019 with a double major in mass communications and theatre arts. Shortly after graduation, Fisher began working as a board operator and on-air personality at 106.1 WNGC in Athens, where she hosted a listener call-in classic country show. She is now co-host of the Cait & Bradley Morning Show on K95.5, Tulsa's New Country Leader, the No. 2 show in the Tulsa market.
Rob Geis, who received the Alumni Service Award. Geis majored in math, played on the baseball team, served as president of the Student Association, was a Resident Assistant, and was a member of the J.S. Green Society before he graduated in 1969. He went on to earn a master's degree and six-year specialist degree in education. During his long career in education, he worked as a high school math teacher, football and baseball coach, and high school administrator. He retired as a principal in Clayton County, Georgia. He and his wife, Cathy, now spend their time traveling.
Jennifer Carter, who received the Excellence in Education Award. Carter earned her bachelor's degree in 1998, Master of Arts in 2001, and Education Specialist degree in 2003. She began her teaching career with Banks County in 1998, where she taught for one year before returning to her hometown in Hart County. There, she worked as a special education teacher for seven years and a second-grade teacher for two years before being named assistant principal of Hartwell Elementary. During this time, she was also named Teacher of the Year for her school and system. She currently serves as associate superintendent for the Hart County Charter System.
John Preece, who posthumously received the Distinguished Alumni Award. Preece, a member of the Class of 1971, studied theater, voice, and music. He directed and acted in numerous shows while at Piedmont, including How to Succeed in Business Without Even Trying, Guys and Dolls, The Miracle Worker, and Waiting for Godot. He was heavily involved in local theaters in Gainesville and Cornelia. Most impressive was his extensive career in Fiddler on the Roof. He was in the musical over 4,000 times and performed as Tevya over 2,000 times, holding the record for most performances as Tevya. He retired to Demorest and passed away in January.
Sports Hall of Fame inductees included:
Jake Baldwin, one of the most prolific scorers in Piedmont men's basketball history. He holds numerous program records and is the all-time leader in points (2,110), made field goals (804), and made free throws (426). He holds many single-season records as well, including points (704), scoring average (27.1), made field goals (270), field goal percentage (.625), free throws made (134), points in a game (42.3 times), and field goals in a game (18). He was the Great South Athletic Conference Freshman of the Year, a four-time All-Conference Team, and a two-time Conference Player of the Year. He graduated from Piedmont in 2008.
Barbara Jean "B.J." Ostrzycki, who was a setter on the volleyball team and still one of the most accomplished athletes in that role in Piedmont volleyball history. She ranks first of all time in assists per set (9.57) and second in assists (3,119). She also holds several high single-season marks, including the third-, fourth-, and fifth-most assists per set for a season (9.80, 9.58, and 9.27) and leads the record book in assists in a single season (1,205). On three separate occasions, she posted an impressive 49 assists in a match, all in the 2006 season. She was All-Conference from 2004-2006, All-Academic Conference in 2006, and hit 3,000 career assists in 2006. She still holds the program record for most assists in a game with 64 at Guilford in 2004. She graduated in 2007 and is now a user experience consultant in Alabama.
For more information about Piedmont University's Alumni Association, visit alumni.piedmont.edu.