Back to news
Piedmont Grad Puts His Degree to Work in the Classroom and the Weight Room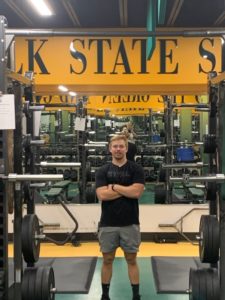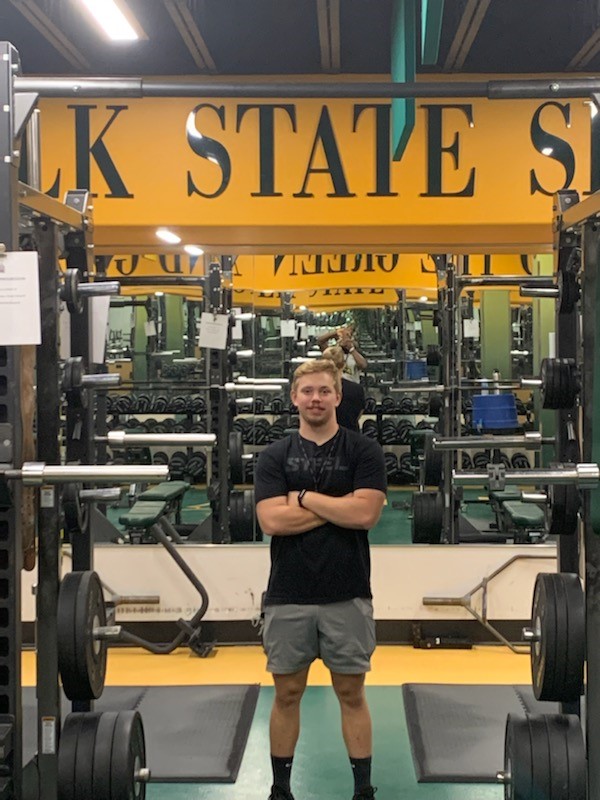 As a lifelong athlete, Killian McClain wanted a career that would keep him close to sports.
After graduating with his master's degree in Health & Human Performance from Piedmont University, McClain got exactly what he was looking for, landing a job as an assistant strength and conditioning coach at Norfolk State University.
"Athletics has always been something that I've enjoyed and something that I will always cherish. My Piedmont degree has given me another way to be involved with what I love," said McClain, who is also an adjunct professor, teaching fitness and weight training classes.
A native of St. Marys, Ga., McClain was uncertain of where to attend college. All he knew for sure was that he wanted to continue participating in track and field. A friend of his had chosen to attend Piedmont, so he decided to come for a visit himself.
"Everyone was super personable. It was easy to see myself there, how I would fit in, and how I would grow," he said.
McClain, a thrower, helped lead Piedmont's track and field program to three conference championships during his years as a Lion.
As he completed his bachelor's degree in Applied Health Science, McClain started thinking hard about what to do next.
"I had just started implementing a strength and conditioning program with the track and field team," McClain said.
"The master's degree in Health & Human Performance intrigued me. I thought it would make me more well rounded and help me get to the next level."
Piedmont's Master of Science in Health & Human Performance is designed to be completed in 14 months and prepare students for the Certified Health Education Specialist and Certified Strength and Conditioning Specialist exams.
McClain especially liked that the degree would be relevant whether he pursued a future as a coach or an educator — or as it turns out, both.
"It's a program that opens up a lot of opportunities," he said.
The Health & Human Performance degree program requires students to complete an internship, which McClain did at Western Carolina University. The academic and professional preparation he received during his studies is now serving him well at Norfolk State.
As a strength and conditioning coach, McClain develops and oversees training regimens for Norfolk's softball, track and field, cross country, and women's bowling teams, as well as football players the university is developing for future play. McClain is also involved in the training for numerous other teams.
"I create regimens that build muscle and endurance, while also incorporating mobility, acceleration, and speed, all the physical attributes that pertain to athletic performance," he said.
"I also work with the athletes to help them develop nonphysical attributes they need to be successful, such as mental toughness and fortitude."
McClain is also teaching Fundamentals of Fitness, a required course, and Basics of Weight Training.
Both in the weight room and in his classroom, McClain is putting his Piedmont education to work on a daily basis.
"At Piedmont, the importance of documentation and effective communication," he said. "I learned the skills that I needed to get where I am today."