Back to news
Professor Bryon Hines aims to create personal, meaningful learning experiences for students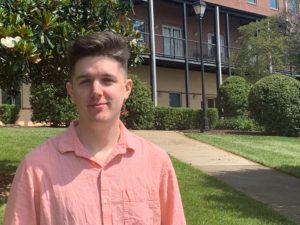 As an undergraduate student at Virginia's Hampden-Sydney College, Bryon Hines benefited from small class sizes and meaningful relationships with his instructors and classmates. That's why he jumped at the opportunity to join the faculty at Piedmont University this fall.
"Piedmont feels very similar to my own undergraduate experience, which prepared me for higher levels of education and my future career. I'm very excited to be here," said Hines, who is completing his doctorate degree in experimental psychology at Ohio University.
Hines' own scholarly journey is rooted in his lifelong interest in moral behavior. Always fascinated with the concepts of "right" and "wrong," Hines once planned to be a lawyer.
"But early on in undergrad, I decided I didn't like law. I was more interested in what causes us to develop our moral beliefs, our senses of right and wrong, and how moral behavior can differ by culture or even within a culture," Hines said.
Since deciding on a career in academia, Hines has co-authored a handful of studies examining how perceptions of personal agency influence behavior.
As an assistant professor of psychology at Piedmont, Hines will teach courses including Introduction to Research Methods & Statistics, Human Growth & Development, Inquiry & Writing, and Abnormal Psychology. In all his courses, Hines will aim to equip his students with key concepts and competencies.
"There are two things I stress: the core concepts of psychology and critical thinking about research," Hines said.
"Students taking psychology courses may or may not decide to become clinical practitioners or researchers. Wherever life takes them, they will benefit from a foundational understanding of psychology and the ability to understand scientific research, why it matters, and how to apply it to their lives."
Hines will also create a classroom in which every student feels welcome, supported, and encouraged to research topics related to their personal interests and experiences.
"Every student brings a unique background," he said, "and we'll use that to help my courses take on more meaning for them and enrich their learning experience."