Back to news
Culture changer
According to some statistics, the average working adult will shift careers between five and seven times during a working life.
That number is about right for Dr. Ed Taylor, who is retiring June 30 as Dean of the Walker College of Business.
Taylor, a Kentucky native, has been a computer software engineer, military colonel, computer systems manager, supply chain manager, plant manager, and college professor.
Three common threads have been woven throughout each career stop: business, management, and cultural change.
The youngest of four brothers, Taylor received a healthy dose of the first two at a very young age while clerking and managing a grocery store in rural Bluegrass Country during the late 1940s and early 1950s. At that store – about the size of a small country church – Taylor learned basic accounting, customer service, and inventory management.
Graduating in 1968 from Morehead State University with a degree in business and political science, Taylor took his first job with the state of Kentucky as a computer programmer. It was a low-paying job, but Taylor took it because his academic advisor told him that programmers would soon be in high demand.
A computer system pioneer, he wrote programs and developed systems that integrated functions and improved efficiencies at the state's finance and administration division. At 29, he was put in charge of the state's entire information systems division.
Taylor performed similar functions at two private companies, Dura Corporation and Cowden Manufacturing.
In 1979, he joined Kuhlman Electric Company, which manufactures distribution transformers that are sold to utility companies, as an information systems manager. Once there, he put the latest software technology to work and improved payroll, labor distribution, scheduling, production management and sales processes. His good work earned him more responsibility as manager of the plant's global supply chain. Two years later, he was named manager at the company's Versailles plant in north-central Kentucky.
Constructed in 1969, the facility was a trouble-area for Kuhlman. In 13 years, it had suffered through seven managers, 12 strikes and lost money each quarter. It also logged about 250 worker grievances annually. Top brass at Kuhlman wanted Taylor to succeed where many had failed.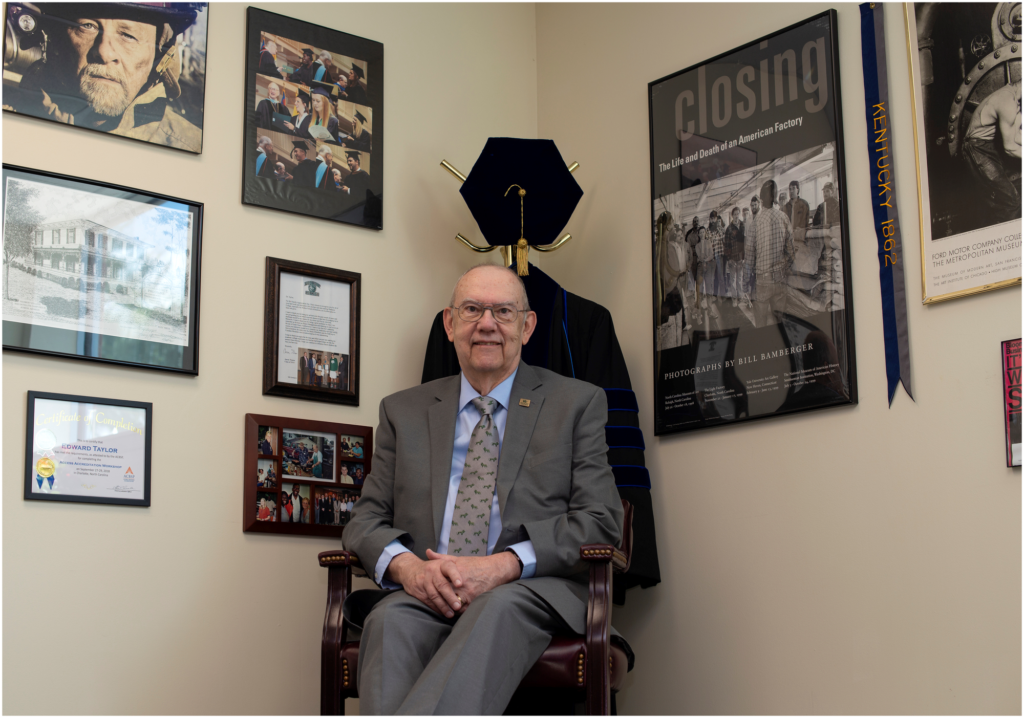 During a time when many managerial processes were simple and linear, Taylor pushed for new thinking at Versailles. He had supervisors take communication classes and installed incentives. Taylor helped factory-floor workers become advocates for the company's product and brand. And he wanted everyone – from the factory floor to corner office – to understand their role in the company's success and know that all work was honorable.
This cultural shift – Taylor calls it moving from compliance to commitment – took some time.

But when it did, employee morale, productivity and profits improved. After the third year under Taylor's guidance, the Versailles plant was meeting production quotas. It was profitable and employees were happier. There were no strikes, and grievances sunk to one a month. It was a dramatic turnaround and paved the way for a successful initial public offering three years later.
But 20 years of management had taken a toll on Taylor. He worried constantly about production, margins, layoffs, and many other issues that keep business leaders up at night.
"Over time, being the person in charge just wears on you. I was well on my way to having ulcers," he says. "When you do that kind of work, there is a strain that never goes away. I never had a goal to retire, but I knew I wouldn't have the constitution to take on the stresses I endured in my forties when I was sixty something."
So, in mid-career, Taylor began casting about for another way to earn a living. To that point, his path had been shaped by mentors. In addition to the academic advisor at Morehead, Taylor had been shaped by Lawrence Appley, a member of Kuhlman's board of trustees, leading management and organizational theorist, and 20-year president of the American Management Association.
He wanted to pay those mentoring experiences forward. Teaching was the obvious choice.
So, nearly 30 years after enrolling as a freshman at Morehead State, Taylor returned as a graduate student. He earned his MBA in 1995 and, later, a Ph.D. from the University of Kentucky after his dissertation on "mentoring in the workplace". He worked two years at UK as an assistant professor before joining Piedmont in 1999.
On a campus that values personal relationships, hard work, and mentoring, Taylor was a perfect fit. Well-read and studious, he was a natural academic, and his years in computer systems made him a natural in research. But he brought something more to Piedmont: practical experience as a business executive and an entrepreneurial spirit.
"He just knows so much about everything," said Dr. Kerry Waller, who will succeed Taylor as dean in July. "His depth of knowledge is extraordinary."
Taylor served as department chair of the Walker Walker College of Business for more than 10 years, director of Athens business school operations for five years, and directed the MBA program on the Demorest campus for eight years. In 2016, he was elevated to dean. Since then he has stewarded the school through a very successful assessment process and recruited faculty and guest lecturers who have practical business experience.
His goal: give students the knowledge and skills they need to be job-ready after graduation while instilling ethics and humility.
"I want them to know that you can be successful and still be kind," Taylor says, "It has always impressed me that one of the two highest awards given to students at Piedmont is the kindness award."
It's an attitude that spills out of Taylor's office and into the building's corridor. He makes sure the school's lobby area is stocked with complimentary snacks and coffee. And he greets everyone with a warm smile and (if time permits) a sit-down story.
"People actually come to the Walker School Business to hang-out," says Waller. "That was not always the case and it's because of Dr. Taylor. He has developed a very warm culture here. Everyone just loves him."