Back to news
Piedmont announces new location for Athens campus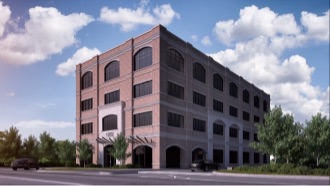 Piedmont University's next Athens campus home will be a modern, four-story brick building at 1282 Prince Avenue.
The 32,700-square-foot edifice is still under construction and is located about half a mile from the current campus. The college plans to move into the new space in early 2021, around the time the institution's name will change to Piedmont University.
Piedmont's main campus is located in Demorest. The college announced last week that it had entered into a lease-purchase agreement for the institution's current Athens campus at 595 Prince Avenue. That property, a former church campus and private school, has served as Piedmont's Athens home since 2006.
The institution's new home and name are symbolic of Piedmont's evolution, growth, and vitality. The college is coming off its largest-ever freshman class and has record enrollment. In recent years, Piedmont has completed large campus-improvement projects in Demorest, expanded course offerings, and is experiencing historic highs in alumni giving.
"This move opens an exciting new chapter for Piedmont," said Piedmont University President James F. Mellichamp. "Next year, we will have a new name and a modern, new Athens home. The upgrade reflects our transformational growth and emergence as a regional liberal arts university. Piedmont opened an Athens campus 25 years ago. And this relocation illustrates our enduring commitment to the Athens-Clarke County community."
The new campus is conveniently located within walking distance of Athens' vibrant and historic downtown district. Piedmont will be the sole tenant of the building, which features an interior that is flooded with natural light as well as a 160-space parking lot.
The move will have little impact on the approximately 500 students and 50 faculty and staff who study and work on the Athens campus. Those enrolling in undergraduate programs at the Athens campus must have earned at least 30 hours of transferable college credit. The institution offers career-focused, flexible undergraduate programs in nursing, business, education, criminal justice, psychology, and sociology. Graduate degrees in education and business are also offered. Class sizes are small and student-centered.
The Upgrade reflects our transformational growth and emergence as a regional liberal arts university.
JAMES F. MELLICHAMP, PRESIDENT PIEDMONT COLLEGE
To meet the needs of working adults, Piedmont has transitioned many classes and courses to an online or hybrid format in recent years. The new campus space in Athens will give the college greater flexibility to meet the changing demands of non-traditional students.
Founded in 1897, Piedmont enrolls more than 2,500 students. Last fall, U.S. News and World Report ranked Piedmont among the top 50 regional universities in the large 12-state South region.