Back to news
An authentic southern voice
In his Stewart Hall office at Piedmont, biology professor Dr. Carlos Camp has an eclectic collection.
There is a framed front page of a London newspaper printed in 1814, a diorama with hand-painted toy soldiers depicting a pivotal moment in the Battle of Waterloo, and a "Jinx and Jasper" film cell from an animated short that was the precursor to "Tom and Jerry."
They share the common trait of authenticity. If it isn't genuine, he ain't interested.
That is one reason why he wrote Muskogee Creek. It takes a Southerner to write about Southerners. Readers will find no characters sullied by an outsider's pen in the novel published in March.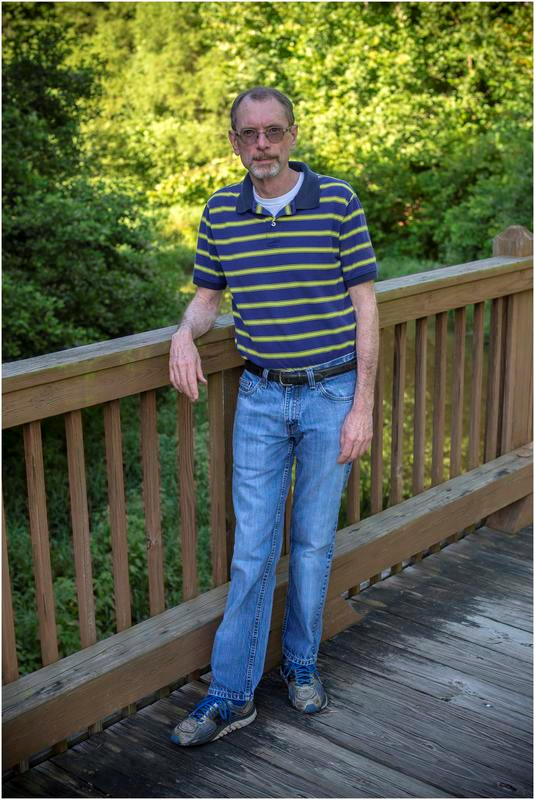 Eleven-year-old Randy Youngblood, the main character, brings the reader along for this murder mystery set in 1960s Alabama. Camp draws upon his outdoorsy youth for imagery and bountiful family for characters. The son of two parents who each have eight siblings, Camp has 45 cousins.
"And that's just first cousins. I'm not counting all the seconds and thirds and once-removeds," he said.
Camp's father was a Southern Baptist preacher, and that no doubt also colors young Randy's observations, including this in Chapter 2—Homecoming:
"For each sermon, the preacher used a different Bible passage as the basis of his invariable message that sinners are going to Hell if they don't get saved. I don't know how many different Bible verses can be used to support the same message, but Preacher Doodle must have been trying for the record. Today's need-to-be-saved sermon focused on the 'whited sepulchers,' whatever they were.
"As usual, my attention began to wander. I looked about the congregation to see if anything of interest might be taking place. There were the usual characters. Calvin Grimes, who my friends and I called 'Booger' behind his back, had already started picking his nose. His little sister, Linda, was working on a tooth—I think she pulled every one of her baby teeth in church. Their parents were good, solid people, salt-of-the-earth type people with all the personality of a bowl of hominy."
Right on the heels of Camp's first novel came the publication of his second, But For The Grace of God. Written with Eli Stancel '00 and published in May, it centers on a plot to kill Union generals William Tecumseh Sherman and Ulysses S. Grant to diminish President Abraham Lincoln's chances at a second term.
At Piedmont, Stancel majored in history and minored in anthropology. A fellow student introduced him to Camp, who is a biology professor, at a snake hunt on campus. They hit it off.
"One of the advantages to being in a place like Piedmont that worked out so well for me was to have that cross-disciplinary interaction. I have in common and I'm probably as close to him as I am to any professor, but I never actually had a class with him," Stancel said. "It was one of those experiences that can only happen at a liberal arts college like Piedmont."
Stancel went on to Arkansas State to achieve a master's in history. Today, he is manager of engineering for Norfolk Southern. His passion for American history is reflected in his hobby as a War of 1812 reenactor.
Camp reached out to see if he would be interested in working on the book. They collaborated remotely as the work progressed, with Stancel providing "heavy underpinnings of fact." The authors tell a story that fits so accurately into the period that it could almost be true.
"His imagination for crafting the story prompted my historical knowledge. We would work through some real people, real stories, and then weave the narrative," Stancel said.
Camp said, "It was very meticulous in making timelines and having characters at the right place at the right time and with the right units."
Within a day of sending in the proposal with the first three chapters of the book, Camp had an email from a publisher requesting the rest of it. A contract arrived the next day. Once it was signed by both authors and faxed to the publisher, only about an hour had passed when the cover appeared in Camp's inbox. The book was pushed out in a matter of weeks. There wasn't even time to write their biographies.
Camp is well known for his research and work with reptiles and amphibians, and more specifically with salamanders. He has edited and written textbooks about the critters and penned a column for the local newspaper, The Northeast Georgian, about nature and wildlife for several years.
He now has a textbook at the printers on scientific research entitled "The Way of Science" he co-authored with Dr. Jessica Wooten, associate professor of biology at Piedmont.
Those items in Camp's office—the military history, the cartoon slide, books about amphibians—are about more than an appreciation for authenticity.
"Think about my age cohort and what little boys played with outside: animals like frogs and toy soldiers and toy ships," Camp said. "I guess you could say I never grew up."