Counselor Day
Mar 11th, 2022 9:00 am - 2:00 pm
Demorest Campus, 1021 Central Avenue, Demorest, Georgia 30535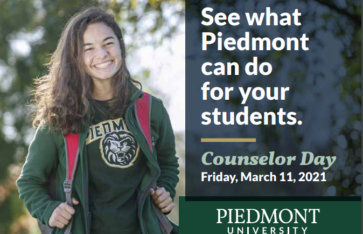 Calling all high school counselors! We would love to invite you to visit Piedmont University and take part in a day designed just for you. This day will include sessions focused on both higher education at a small, private college and sessions specific to Piedmont. During the event you will hear from people in a variety of positions and departments at Piedmont, including:
Financial Aid, and how it works at a private institution
Career Services and how our alumni and parent network mentor students
Office of Accessibility, Resources and Services and what the process looks like for students to receive services and accomodations
Deans and leadership of our academic colleges on campus
Student Life & Leadership
Housing and our philosophy behind freshman housing
Athletics
You will also be seeing two of our newly completed buildings on campus as well as our new freshman residence hall, Mystic Hall, that will house our incoming freshman class.
For questions or more information please contact Karis Fowler at kfowler@piedmont.edu or 800-277-7020 ext. 1186.