Back to news
Piedmont Students Learn About the U.S. — and Life — During Everglades Bike Trip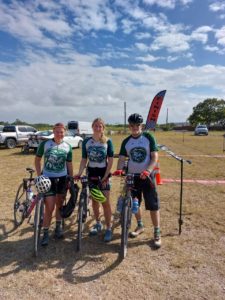 Piedmont University students Hannah Kunze and Hannah Willems have just returned from a trip they'll never forget — a 56-mile cycling trek through the Florida Everglades.
Kunze and Willems both hail from Germany and both have an interest in cycling, as does the Rev. Tim Garvin-Leighton, Piedmont's campus minister.
Garvin-Leighton, who's participated in cycling events across the United States, had his sights set on Gravel Miami as his next competition. As the event approached, he saw the chance to turn it into an educational excursion for Kunze and Willems, both avid cyclists as well; Kunze is a member of Piedmont's cycling team.
"When we were leaving Demorest, we put Miami into the GPS, and it said it was 750 or so miles away. They took a picture of the map and sent it to their families in Germany," Garvin-Leighton said.
"If they drove that far in Germany, they'd be in Italy, but here, they were just going from Georgia to Florida. This trip gave them the chance to see more of the United States and to see a very unique ecosystem up close while doing what they love — cycling."
Garvin-Leighton, Willems, and Kunze, who proudly wore Piedmont gear while participating in Gravel Miami, each completed the event's 56-mile course. Unfortunately, they didn't see any alligators during their ride, but will remember the trip for years to come, nonetheless.
"The most important thing that I learned during this trip is that even though something may seem impossible for you, that doesn´t mean you cannot do it. With the right motivation you can do almost everything," Willems said.
"It is important to have people in your life who help you when you need it. Teamwork is everything, and sometimes you need someone else to convince you about your own ability. Rev. Tim and Hannah K. believed in me when I didn't, and in the end, they were right."