Back to news
Piedmont University's Cantabile to Sing About Love, Loss and War During Oct. 25 Event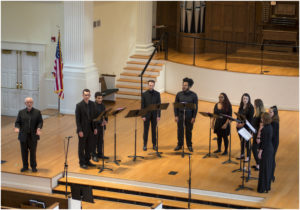 Piedmont University's elite student singing ensemble, Cantabile, will perform works about love, loss, and war as a metaphor for love during a free performance at 5 p.m. on Oct. 25 at the Chapel on the Demorest campus, 1021 Central Ave.
Cantabile is a small group that performs a lighter repertoire than the university's other performance ensembles, focusing on early music, jazz, and pop arrangements.
"The group is known for expressive singing and polished performances," said Dr. Wallace Hinson, director of the Conservatory of Music and associate dean of the School of Fine Arts and Communications.
For the upcoming performance, Cantabile will present works ranging from the 15th century to modern day, including an Italian madrigal, French Chanson, traditional British songs of the 18th century, and songs by 20th and 21st century musicians such as Cyndi Lauper, Alison Krauss and the Beatles.
The concert is free and open to the public.
For more information on events at Piedmont University, visit piedmont.edu/events.