Back to news
Piedmont University Installs Historical Marker at Lillian E. Smith Center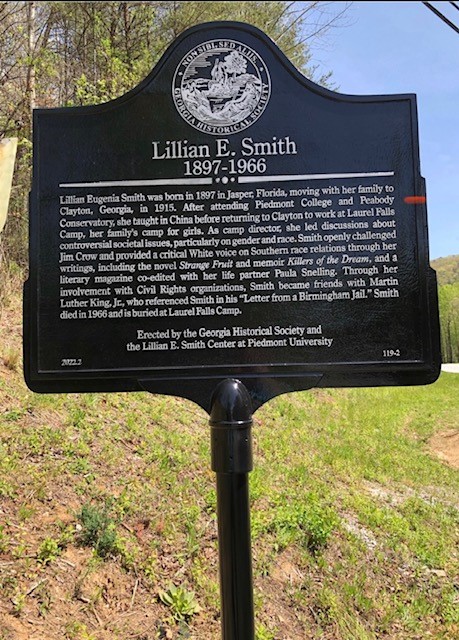 Piedmont University on Wednesday unveiled a historical marker recognizing the work of Civil Rights advocate and Piedmont alumna Lillian E. Smith.
The marker, installed in conjunction with the Georgia Historical Society, becomes one of more than 2,200 historical markers in the state and is the newest edition to Georgia's Civil Rights Trail.
The marker, which stands at the Lillian E. Smith Center in Clayton, Georgia, was revealed during a ceremony that included remarks by Piedmont President Dr. James F. Mellichamp, LES Center Director Dr. Matthew Teutsch, Clayton Mayor Kurt Cannon, and Georgia Historical Society Historical Marker Manager Elyse Butler.
"It was a beautiful day and a wonderful occasion, to be able to celebrate the life and legacy of Lillian Smith, whose vision of a more just, unified society continues to inspire us, even decades after her death. We thank everyone who came out to celebrate with us today," Mellichamp said.
Cannon added:
"This is a celebration of someone who was willing to step out early and support those who were being discriminated against," he said. "To know that she was friends with Dr. Martin Luther King Jr. is unbelievable and an inspiration."
In addition to being a close friend of King, Smith was the author of Strange Fruit, the best-selling novel about an interracial relationship that takes place in Georgia in the 1920s.
Dr. Keri Leigh Merritt, an Atlanta-based scholar and author of Masterless Men: Poor Whites and Slavery was schedule to be the guest speaker at the Wednesday event, but she was unable to attend. Teutsch read the speech Merritt had prepared.
"Today rights the wrongs of the past and finally gives Lillian Smith the respect and admiration she so deeply deserves," Teutsch read.
He continued:
"Smith was erased from history because she posed, and still poses, a threat to prevailing hierarchy and power structures. Lillian Smith and her ideas undoubtedly deserve to be known by every American …
"She will now be remembered with her own shining historic plaque, celebrating her life's work, not only as a pioneering anti-racist, but also a wonderful and provocative writer."
Located on more than 150 acres where Smith lived and worked, the Lillian E. Smith Center is both an educational facility and a retreat for artists, writers, scientists, and others committed to continuing her work.
The Lillian E. Smith Center is comprised of four structures once used by the Laurel Falls Camp, which Smith and her lifelong partner, Paula Snelling, operated from 1925 to 1948. Today, these buildings and the surrounding grounds are used for field trips, independent studies, and workshops, among other activities.
For more information on the LES Center, visit piedmont.edu/lillian-e-smith-center.