Counselor Day
Oct 13th, 2023 12:00 am - 11:59 pm
Demorest Campus, 1021 Central Avenue, Demorest, Georgia 30535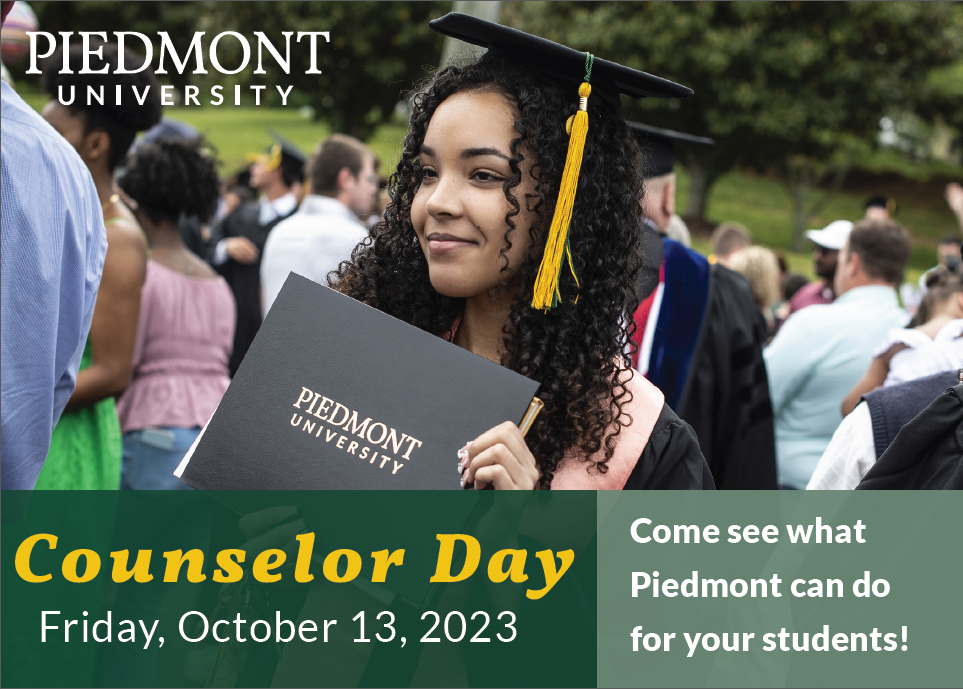 We invite you to join us at Piedmont University for our Day for Counselors. During this event you will learn why Piedmont has earned the following accolades:
#1 private college in Georgia according to James Magazine.
Fifth best "Regional University" in Georgia as ranked by US News & World Report.
Wallet Hub, a popular personal finance website, recently ranked Piedmont the fifth best institution of higher learning in Georgia behind Georgia Tech, Emory University, the University of Georgia, and Mercer University. In its analysis the website gives weighted consideration to cost and career outcomes.
Niche.com has ranked Piedmont the #1 Safest Campus in America (2021), #11 Best College in Georgia (2021), #4 of 28 Best Small Colleges in Georgia (2021).
During the event you will hear from people in a variety of positions and departments at Piedmont, including:
Financial Aid and how it works at a private institution (including how we distribute $14 million in scholarship money each year).
Career Services and how our alumni and parent networks mentor students.
Office of Accessibility, Resources and Services and what the process looks like for students needing services and accommodations
Deans and leadership of our academic colleges on campus.
Student Life & Leadership
Housing and our philosophy behind freshman housing
Athletics
You will also be seeing much of our campus, including some of our newest buildings.
We look forward to hosting you on our beautiful campus and showing you why Piedmont is known as a "hidden gem."
For more information or questions, contact Karis Fowler at kfowler@piedmont.edu.