Who will my professors be?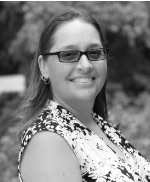 Abbey Dondanville
Professor, Health Sciences & Associate Dean, Health Sciences
QUESTIONS?
---
Graduate Admissions
P: 800-277-7020
E: grad@piedmont.edu
MS in Health & Human Performance Courses
The graduate program in health & human performance can be completed in one year. The program is made up of 36 credit hours.
Summer 1: 4 weeks
| Course | Credit Hours |
| --- | --- |
| HSCS5440 Nutrition for Health Programming or ATRG5120 Practical and Emergency Techniques | 3 |
| ATRG5125 Physical Assessment | 3 |
| Optional: Students can elect to take all three courses | 3 |
| Total Required Hours | 6 |
Fall
| Course | Credit Hours |
| --- | --- |
| ATRG 6402 Organ/Administration | 3 |
| HSCS 5100 Epidemiology and Biostatistics | 3 |
| HSCS 5410 Research Methods in Health Science | 3 |
| HSCS 5420 Advanced Strength & Conditioning | 3 |
| Total Required Hours | 12 |
Spring
| Course | Credit Hours |
| --- | --- |
| HSCS 5301 Impl. & Eval. of Health Programming | 3 |
| HSCS 5302 Pathology & Pharmacology | 4 |
| HSCS 5340 Coaching Behavior Change | 3 |
| HSCS 5499 Internship | 2 |
| Total Required Hours | 12 |
Summer 2: 8 weeks
| Course | Credit Hours |
| --- | --- |
| HSCS 6411 Assessing Healthcare Quality (online) | 3 |
| HSCS 5411 Current and Emerging Issues in Health Policy, Economics, and Advocacy (online) | 3 |
| Total Required Hours | 6 |