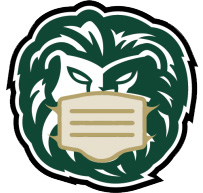 What if I get sick?
As advised by the Centers for Disease Control & Prevention, higher education institutions, working together with local health departments, have an important role in slowing the spread of diseases and protecting the health and safety of students, employees, and visitors.
Everyone at Piedmont is eager to resume pre-COVID operations. The quicker we can minimize the spread of the virus nationally, the quicker we can return to normal. To protect the Piedmont community, the following action plan has been established to formalize our responsibility for helping to slow the spread of COVID-19:
Recognize: Students and employees are expected to monitor their health on a daily basis. Proper monitoring includes identifying COVID-19 symptoms, which are described here: Symptoms of COVID-19 | CDC.
Report: Students and employees are required to complete the Lions Check health screening via the Piedmont app by noon each day. Students who are experiencing COVID symptoms must go to Starfish.piedmont.edu and select "COVID-19 symptoms/recent positive test/recent vaccination" to notify university personnel.
Response:  Piedmont personnel will work with symptomatic students to develop an appropriate response, which may include the following:

COVID-19 testing
Medical attention/treatment
Quarantining/Isolating (on and off campus): students whose permanent residence is within six hours of campus will be asked to return home for the duration of their quarantine
Academic Accommodations
Residential Accommodations
Sanitation of affected areas
Medical clearance
Every symptomatic student will be treated with care and concern, and Piedmont's response will be unique to each student, taking into consideration their health, academic success, and potential spread of the virus to other members of the Piedmont community.
How can I protect myself from getting sick?
Students and employees can minimize their chances of becoming ill by:
Frequently washing hands with antibacterial hand soap and water for at least 20 seconds.
Using hand sanitizer (containing at least 60 percent alcohol) for at least 20 seconds.
Maintaining social distance whenever possible.
Disinfecting frequently touched surfaces, including door handles, faucets, and countertops.
Using face coverings. Piedmont University is requiring all individuals, regardless of vaccination status, to wear a face covering in classrooms, labs, and other settings where social distancing is not possible. Unvaccinated individuals must wear a face covering at all times while on campus.
Staying home when they feel sick. Students must report COVID symptoms via Starfish by clicking on "COVID-19 symptoms/recent positive test/recent vaccination."