Peter and the Starcatcher
Oct 20th, 2022 7:30 pm - Oct 22nd, 2022 9:30 pm
Swanson Center for Performing Arts & Communications, 365 College Drive, Demorest, GA 30535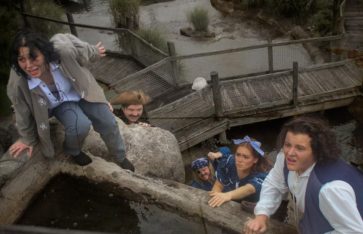 Directed by John Spiegel
A young orphan and his mates are shipped off from Victorian England to a distant island ruled by the evil King Zarboff. They know nothing of the mysterious trunk in the captain's cabin, which contains a precious, otherworldly cargo. At sea, the boys are discovered by a precocious young girl named Molly, a starcatcher-in-training who realizes that the trunk's precious cargo is starstuff, a celestial substance so powerful that it must never fall into the wrong hands. When the ship is taken over by pirates—led by the fearsome Black Stache, a villain determined to claim the trunk and its treasure for his own—the journey quickly becomes a thrilling adventure.
$10 Adults, $5 Seniors and Students, Piedmont Faculty, Staff and Students are Free. All tickets must be purchased through the Box Office so that we can maintain proper social distance in the Theatre. Please call 706-778-8500 x1355 Monday thru Friday from 1-5 pm to purchase tickets.
Performed at the W.R. Cleere Mainstage Theatre.