James F. Mellichamp, Organ
Apr 3rd, 2022 4:00 pm - 5:00 pm
Chapel, 992 Central Avenue, Demorest, GA 30535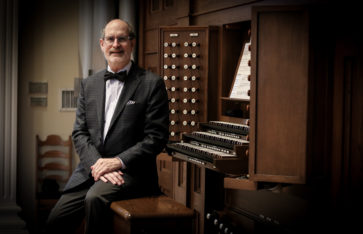 Program

* * * * *
Praeludium in E Minor, BuxWV 142
Dietrich Buxtehud (1637-1707)
Two Transcriptions of Instrumental Works
"Air" from the Orchestral Suite No. 3, S. 1068
"Sinfonia" from Cantata No. 29, S. 29
Johann S. Bach (1685-1750)
Impromptu (from Fantasy Pieces, op. 54)
Louis Vierne (1870-1937)
Fantasy in A Major, FWV 35
César Franck (1822-1890)
Impromptu (commissioned by Piedmont University)
Craig Phillips (born 1961)
Pageant
Leo Sowerby (1895-1968)
+ + + + + + +
Program Notes
Dietrich Buxtehude was one of the most important German organists in the generation before Bach. In fact, we have written reports that the young Bach spent quite a bit of time studying with Buxtehude in the great Hanseatic port city of Lübeck, Germany. Buxtehude composed much great music which has survived including extensive arrangements of Lutheran hymns for the organ, praeludia, and works for choir. The Preludium in E Minor is actually an extended work with contrasting sections – a dramatic prelude which is followed by several fugues, ending with a lively grand coda. This exuberant composition brings into play all of the virtuosic resources of the performer.
One of the most important composers of all time, Johann Sebastian Bach wrote music for almost every solo instrument of his day, as well as orchestral music and a large body of works for choir and orchestra. A number of his compositions have been arranged for other instruments, demonstrating the versatility of his musical language. The "Air" from the Orchestral Suite No. 3, more commonly known as "Air on the G String," is quite beloved and here arranged for the organ by Noel Rawsthorne. The "Sinfonia" or opening movement to Cantata No. 29 – "We Thank You, God" – is arranged by Marcel Dupré.
Louis Vierne, a blind organist and prolific composer, was from 1900 until his death in 1937 organist at the Cathedral of Notre Dame in Paris. Impromptu is one of a set of twenty-four pieces with programmatic titles that Vierne composed for an American tour in 1926-1927. Sweeping passages on flute stops contrast with wry passages featuring the Clarinet stop, all written in Vierne's characteristic highly-chromatic style.
The greatest composer of the French organ school in the nineteenth century was César-Auguste Franck. Belgian by birth, but French by education, this man had a profound effect upon his pupils and the development of organ music. Franck was organist in Paris at the church of Ste. Clotilde for thirty-one years where he presided over one of the best known organs built by Cavaillé-Coll. The Fantasy in A Major is one of the most important works of the mature composer relying on sensuous chromaticism as well as alternation and combination of contrasting themes coupled with consummate mastery of the organ's tonal resources.
Craig Phillips is a church musician working in Beverly Hills, California, and a noted composer of organ and choral music. Piedmont University commissioned Dr. Phillips to write his Impromptu in celebration of James F. Mellichamp's 50th anniversary as a concert organist (June 2021). It is performed here for the very first time. A variety of themes, some lyrical and others more rhythmic, alternate as a pastiche or quilt.
Often referred to in his lifetime as the "Dean of American Church Music," Leo Sowerby was among the most important musicians of his generation. He served St. James Episcopal Church in Chicago for almost 40 years and then, in retirement, the Washington "National" Cathedral. Pageant, composed in 1931, was written as a challenge for, and dedicated to Fernando Germani, an acknowledged virtuoso organist in Rome, Italy. Germani, upon seeing the piece, is said to have remarked "Now write me something really difficult." In reality there is no other composition for the organ pedals that comes even close in terms of difficulty.
About the Organ
The Sewell Organ at Piedmont College was constructed in 2001-2002 by Casavant Freres of Ste. Hyacinthe, Quebec, Canada – one of the world's premier builders of pipe organs. It is named in honor of Piedmont alumnus and former trustee Charles K. Sewell ('54).
The organ was designed by Dr. James F. Mellichamp, professor of music, in collaboration with members of the Casavant staff. There are some 3,691 pipes in the organ constructed of various metals and woods. The organ's key action is mechanical and there is a solid-state electronic combination action which controls the organs stops and couplers. The case of the organ is constructed of oak and features hand-carved and gilded pipe shades.