Back to news
Piedmont's Beloved Lessons and Carols Event Returns to Live Format; Seating Reservations Required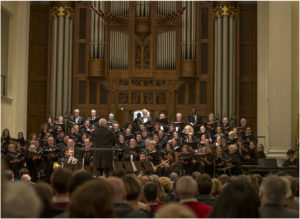 Piedmont University will once again present its beloved holiday event, Lessons and Carols, to live audiences during two performances in November.
Lessons and Carols is now in its 33rd year. The 2020 performance was presented as a video recording because of the COVID pandemic. This year, the performance returns to a live format, but face coverings and social distancing will be required. To ensure social distancing, attendees must register at showpass.com/33rd.
"We are thrilled to perform Lessons and Carols for a live audience this year," said Bobby Ivey, fine arts facilitator and associate director of choirs.
"The Annual Service of Lessons and Carols is one of the region's most beloved events celebrating Christmas. Featuring the Piedmont Chorale, the magnificent Sewell Organ, and the Piedmont Brass, this program is definitely a highlight during the holiday season."
This edition of Lessons and Carols will feature readings, carols, and choir anthems to begin the Christmas season. Audience members will be encouraged to participate in such holiday favorites as Joy to the World, O Come All Ye Faithful, Silent Night, and The Hallelujah Chorus.
The performance will also feature members of the community singing as part of the Piedmont Chorale. Their participation had been restricted during COVID.
"We are excited to have our community members back singing with the Chorale this year. During the height of COVID protocols, we weren't able to allow our community singers to join us," Ivey said.
"It has been a joy to have these talented singers from our community singing in the Chorale again."
Ivey added:
"Piedmont University has benefitted from great community support over the years. The growth of the fine arts at Piedmont, along with our new Conservatory of Music, allows us to engage our community on campus through music concerts, theatre productions, and art gallery exhibits. It is a joy to share the incredible talent of Piedmont University through these events. This will be the 33rd annual service of Lessons and Carols presented by the Piedmont Chorale. I'm proud to be the director of the Chorale and to help continue this long-standing traditional Christmas event presented to our Piedmont community!"
Lessons and Carols will be performed Nov. 29 and Nov. 30 at 7:30 p.m. at the Chapel on Piedmont's Demorest campus, 992 Central Ave. Attendance is free, but registration is required at showpass.com/33rd.  
Learn more about Piedmont's fine arts programs and events at The Fine Arts at Piedmont | Piedmont University.