Back to news
Tavernier to lead Piedmont's College of Education
Dr. Mark Tavernier, Interim Dean of Piedmont's College of Education, can strike the word interim from his job title, the college announced today.
A Michigan native, Tavernier joined Piedmont in 2017 as associate professor and took on the role of interim dean in July. Before joining Piedmont, he was an associate superintendent for the Clarke County School District and had worked in advancing positions as executive director, administrator, department chair, and teacher in public school districts in Michigan, Virginia, and Georgia.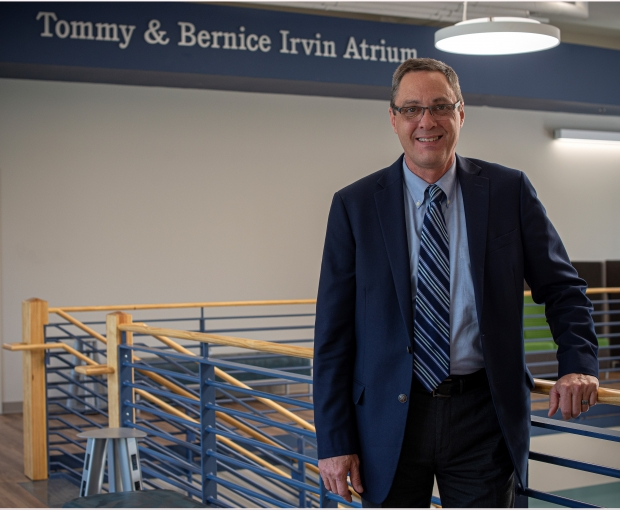 A graduate of Olivet College (Olivet, Michigan), Tavernier earned a master's degree in education from Old Dominion University (Norfolk, Virginia) and an education specialist degree from George Washington University (Washington, D.C.). In 2005, Tavernier received a doctoral degree in education from Virginia Polytechnic Institute and State University (Blacksburg, Virginia).

As dean, Tavernier will lead Piedmont's largest academic unit. The school of education enrolls approximately 1,200 undergraduate and graduate students on the college's two campuses in Demorest and Athens. It operates the largest graduate program for teacher education in Georgia and is the state's second-highest producer of teachers.
"Piedmont has been educating educators since our founding in 1897," said Piedmont President James F. Mellichamp. "As a long-time public school educator, Dr. Tavernier understands the challenges and opportunities in K-12 education because he is a proud product of that environment. I look forward to working with him to grow our enrollment and expand our profile in this essential and vitally important profession."
Tavernier takes over an academic unit that is teeming with optimism and potential. Last month, Piedmont dedicated the Charles and Catherine Sewell Center for Teacher Education in Demorest. The 17,000 square-foot building, formerly Nielsen Hall, is located on Piedmont's quad and includes eight classrooms, four seminar rooms, a technology classroom, and administrative offices.
Currently, the final touches are being made on Piedmont's new Athens campus, a modern, four-story brick building at 1282 Prince Avenue near downtown. Faculty and staff will transition operations to that new facility in March.
"Our state-of-art facilities in Demorest and Athens represent a long-term investment in teacher education," said Tavernier. "With the capacity to grow, we plan to expand our education enrollment, particularly in the area of STEM (science, technology, engineering and mathematics) education where there is a critical need."
An educator at his core, Tavernier will continue to provide instruction to Piedmont's doctoral students and chair that department. He also embraces the college's culture, which is grounded in service and powered by personal relationships.
"I graduated from a small liberal arts college that is very similar to Piedmont," he said. "My education there was uplifting and transformative. I know that a Piedmont education lifts lives, and I look forward to providing more opportunities for students to experience that."